Crushing Plants
A common problem with portable crushers is balancing road portability with under hopper clearance and configuration, especially in impactor and jaw applications due to the directional force of the discharge. This is a specific challenge in Eastern Canadian Provinces as they have the lowest road clearances (13'6") in the country. KREATOR has a catalogue of well designed, low profile crusher discharge arrangements, complete with our own impact sections. We have completed numerous R&D trials over the years which our customers now benefit from. We will mount any crusher you want or make recommendations. Standard and custom designs are available.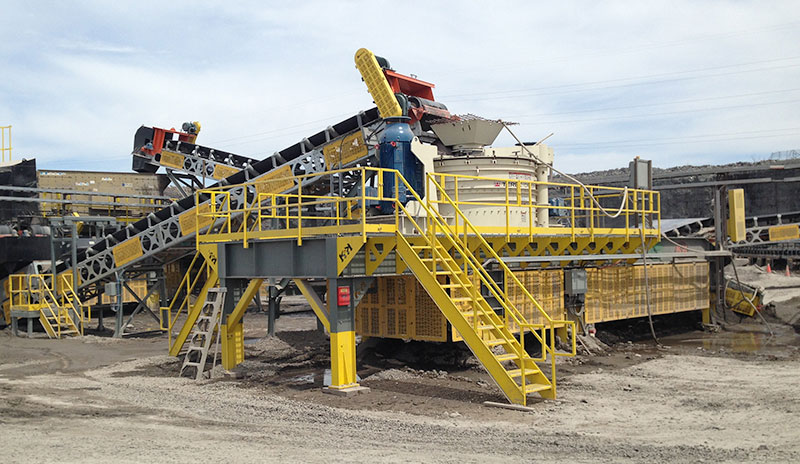 Screen Plants
Whether you are in the market for an incline or horizontal single or twin screen, we have a solution. KREATOR is known for our maintenance-friendly plants complete with an oversized mainframe and robust chassis'. Our focus on safety and maintenance comes as a result of our starting off as a maintenance and millwrighting company. We understand the difficulty associated with compacting the necessary components required into a portable unit. We don't change things that work - instead we listen to our customers and focus on what doesn't.
Feeder Bins
We make standard feeder bins for primary plant feed, refeed applications, surge protection, buggy bins, loadout bins c/w or w/o a hydraulic dumping grizzly and a bias grizzly with discharge belts ranging from 30" to +48" wide. While 24 yards, 20 yards, 17.6 yards and 12 yards are our standard sizes, we can design and manufacture to suit your needs. Our feeders can handle tonnage from 80mtph up to, but not limited to, 2000mtph. We take pride in the well-mapped bolt in the liner configuration, making maintenance easier and safer to perform. All feeder bins come with an adjustable AR400 skirt board as the standard.